#FitGirlMagic: Kirby Patterson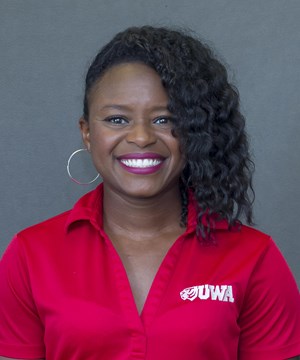 What does it take to truly go after your dreams?
Strength? Focus? Willpower? A definitive picture of why and what you are fighting for? As long as we have known our good friend Kirby Patterson, we've known her to embody each of these things, go boldly after her goals, and do it all with a smile.
Kirby is the Head Coach of the Men's and Women's Track and Field Program at the University of West Alabama. She's sharing her journey from college athlete to professional, the lessons she aims to pass along to her students, and the joys and challenges that come with her career
When and how did you fall in love with the industry?
I fell in love when I was a child, unintentionally. I always raced my little cousins, and anyone that dared me, just to prove that I was better. It eventually led to me competing in a plethora of sports, which ultimately led to me obtaining a collegiate athletic scholarship in track and field.
What motivates you most to live a healthy lifestyle?
I want to ensure that I maintain a healthy lifestyle so I can be the role model my children need to do the same. I also want to be present in their lives as much and often as possible, and prefer that my health not hinder me from doing so.
What is your favorite workout?
I love high-intensity interval workouts and yoga.
What is your biggest fitness struggle?
Staying consistent. My profession is heavily involved in the fitness industry, but a large percentage of my duties are administrative. Sometimes it's a struggle to remove myself from the computer, because I never like to be overwhelmed with work. However, when I do workout... it's go time.
What piece of fitness advice do you find yourself repeating to your athletes?
Excellence is a daily habit. Excellent people thrive on being extraordinary, and in order to be extraordinary, discipline and sacrifice is required.
Why is it important to have diversity in the fitness industry? How do you promote diversity as an athletic director on a college campus?
We live in a multicultural society that is full of people from different ethnicities, socioeconomic backgrounds and cultures. The key to having a great connection with clients is our attitude, language/communication, and understanding of the clients needs. Clients, or in my case, athletes want to feel comfortable and sometimes the ethnicity plays a huge role in that.
What was the transition like from athlete to building a professional career as an Head Coach?
It was a difficult transition at first, because my first taste of coaching was on the high school level. I spent a lot of time convincing current students to join the Track & Field team. As I continued to move up the ranks, more responsibility followed. I realized that you are never really ready for a position. We have an idea of what all it entails, but really don't grasp it until we are thrown into the fire. It's been an amazing transition. One that has forced me to grow.
What do you do in your role?
Manage 50+ collegiate student-athletes and coaches, all things administrative as it pertains to the program (fundraising, community service, travel, equipment, scheduling, budgeting, etc), encourage student-athletes daily to push the limit in every practice to be the best, remind student-athletes that they are students first and athletes second.
What is the most rewarding part of your job? What is the most challenging part of your job?
The most rewarding part of my job is seeing the light bulb go off for student-athletes. As coaches, we tell our athletes how good they can be on and off the track, but it is amazing to see them actually realize it and not think we are crazy for giving them hard workouts and study hall hours.
The most challenging part of my job is not renewing scholarships. There isn't a worth on any person. Every person is priceless. However, our job is graduate students and win. It's difficult having a conversation with an athlete if they do not fulfill one of those tasks.
What is one lesson that you want to instill in your athletes?
I'd like for my athletes to understand that the decisions that they make today, impact their future. Also, I inform them periodically to never take any opportunity for granted- that there is always someone struggling more than they are. Finally, I inform them that once they start quitting, it becomes a habit. I want them to focus on pushing through to see what's on the other side.
What has been your biggest accomplishment in your current role?
On the track - Several conference champions and national qualifiers. Off that track - Seeing former athletes use the tools that they've learned from being a member of the Track & Field team to succeed in life.
How do you navigate being a female in what is considered a male-dominated field of college athletics?
The key to succeeding in this profession is being knowledgeable of the sport, working hard and maintaining my integrity. The percentage of female coaches in the sport is low, but just imagine the percentage of African-American female coaches. It's important to succeed for the female coaches to come.