Fit with Finesse Grocery Challenge: Trader Joe's
Poll: Would you prefer to work out three times a week, or spend five hours meal-prepping on Sunday?
For most, maintaining a balanced diet is the biggest challenge when it comes to living a overall healthy lifestyle. It's much easier to let our go-to quick service, fast casual, or sit down restaurant do all the work for us. Sometimes, we are more focused on the 80/20 rule. Other times, we dial it all the way in to make sure our bodies are fueled for the next challenge. It has taken some time, but we've found a few staples along the way that work for us. This week, we're sharing a glimpse into our grocery carts and letting you in on a recent challenge.
Could we meal prep for an entire week on a $75 budget? Here's how we did:
Challenge: $75
Tips on Saving at Trader Joe's
Grab a Fearless Flyer
A new Fearless Flyer is released in stores every month and lists Trader Joe's latest deals and limited-edition items.
Buy frozen!
If you are only cooking for yourself, this is a great way to save. Usually, food is frozen at it's peak ripeness, plus trader Joe's has a lot of yummy pre-made meals. Whatever fruit or veggies you don't use can be sealed in a zip-top bag for next time.
Don't shy away from generic brands
You would be hard press to find a TJ generic brand that isn't delicious, and sometimes better than the original. Looking to save time? Try Trader Joe branded sauces. Our personal favorites are the curries and the marinades.
Take advantage of TJ's generous policies
Not sure if you want to commit to a certain product without trying it first? Just ask! Trader Joe's will provide samples of any product in the store (yep, even frozen foods!) And if you're not totally in love with your purchase, they have a super generous return policy.
Don't Skip the Seasonings
Trader Joe's carries some of the best seasoning to jazz up the most mundane, routine of meal prep. Everything But The Bagel Seasoning, African Smoke Seasoning, Lemon Pepper and Himalayan Pink Sea Salt - along with their section of oils and Coconut Amino soy substitute - are all winners and stay stocked in our pantry.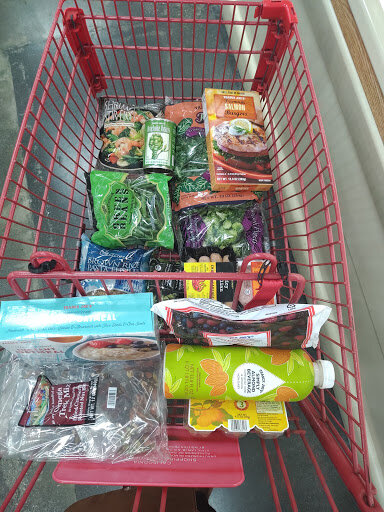 Challenge: $75.00 Total Spent: $57.53
Meals Planned
Ground Turkey Patty w/ Broccoli and String Beans (Serves 4)
Salmon Patties w/ Artichoke Hearts and Kale (Serves 4)
Shrimp Stir Fry w/ Vegetables (Serves 2)
Protein Shake w/ Berries and Almonds Milk (Serves 4)
Pasta w/ Italian Sausage and Vegetables (Serves 6)
2 Boiled Eggs, Apples & Trail Mix (Serves 6) w/ trail mix left over
Vegetables & Fruits
Greens Kale 10 oz. - $1.69

Artichoke Hearts - $2.49

Broccoli Florets - $1.99

1 lb Green Beans - $2.79

Foursome Organic Green Vegetables -$2.99

Fancy Berry Medley -$2.99
Pantry Items
Pasta Organic Brown Rice Fusilli - $1.99

Turkish Apricots Snack Pack -$1.49

Just a handful of Omega Trek (Trail Mix) – 10 Individual Bags - $ 5.99

Simply Almond Milk -$5.09 (include CRV)
Items Owned Pre-Shopping
Green Apples

Sriracha Sauce

Protein Powder

Coconut Amino
Protein
Premium Salmon Burgers - $6.99

Spicy Italian Chicken Sausage - $3.99

93/7 Natural Ground Turkey (1 lb.) - $ 4.49

Dozen Eggs - $1.39
Pre- Prepared Meals
Shrimp Stir Fry w/ Vegetables - $4.99
Challenge: $75.00 Total Spent: $61.08
Meals Planned
Baked Salmon, Spinach Salad & Cauliflower Gnocchi (Serves 4)
Sweet Potato, Black Bean Mexican Bowl (Serves 4)
Tuna Salad on top of Raw Spinach (Serves 2)
Snacks: Seaweed & Mango
Post-Gym / Sweet Tooth: PowerCrunch Protein Bar
Vegetables & Fruits
Cut Sweet Potato Ribbons - $2.99

Mirepox Mix - $2.99

Baby Spinach Salad - $4.49

Sliced Mango - $3.49
Pantry Items
Power Crunch Bars - 4 bars - $6.00 @ 1.49/bar

Alkaline Water - 2, 1.5L bottles - $2.98 @ 1.49/bottle
Items Owned Pre-Shopping
Raw Spinach

Olive Oil

Everything but the Bagel Seasoning

Taco Seasoning (I make my own)

Protein Oatmeal

Celsius Energy Drinks (Yes, these are considered a weekly staple)
Protein
BBQ Cut Salmon - $10.20

Canned Tuna - $9.16 @ 2.29/can

Canned Organic Black Beans - $1.98 @ .99/can
Frozen Items
Cauliflower Gnocci - $5.38 @ 2.69/pack

Rice Medley - 3 Microwaveable, Steam-able Pouches $3.99